Connaught administrator's work plea to worried staff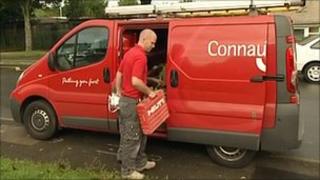 Staff who work for the Exeter-based property giant Connaught have been urged to turn up for work.
Connaught Partnerships - one third of the company - was put into formal administration on Wednesday.
Nationally, the company employs about 4,400 people, of which 500 work in Exeter and 400 in Plymouth.
Richard Hill, a spokesman for administrator KPMG, said employees would get paid while efforts continued to find a buyer.
"We are doing everything we can and my request to staff is to actually turn up for work," he told BBC News.
"Because if they don't turn up the business will start to disintegrate very quickly and there won't be anything we can do about it.
"While the company's in administration if staff turn up for work they will be paid."
Connaught Partnerships specialises in maintenance of social housing
Colin Discombe, a Connaught carpenter in Plymouth, said for him it was "business as usual".
"We've been told pretty much 'that's it', but we've got to keep going until we're told to stop working."
Concrete repair
Connaught's other two subsidiaries - Environmental and Compliance - are not affected and will continue to trade normally.
KPMG said it hoped the majority of staff from Partnerships would be transferred to alternative providers.
Any decisions on redundancies would be announced "as soon as possible".
Earlier this year, Connaught warned that public spending cuts to reduce the government's budget deficit, would drastically reduce its revenue.
The company began life as a concrete repair business in Sidmouth in 1982.
Since late June shares have lost about 90% of their value.