Navy slashes number of recruits at HMS Raleigh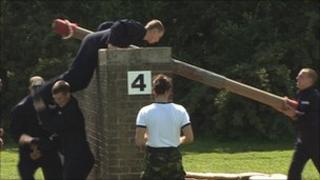 The Royal Navy's basic training base is cutting the number of raw recruits by more than half.
HMS Raleigh, at Torpoint in Cornwall, will train 1,100 recruits in 2010/11 compared with 2,461 last year.
The navy said it was a temporary reduction because of a successful recruiting campaign and fewer personnel leaving in the economic downturn.
It said the cut was "completely separate" from the government's strategic defence review.
Captain Steve Murdoch of HMS Raleigh said: "A recent review found we do not require the amount of recruits.
"As a consequence of the economic situation more people have decided to stay in the navy and we have had a successful recruiting campaign."
Devonport fears
He said HMS Raleigh would continue with its training programme in weapons, firefighting, seamanship and submarines operations of crews for deployments.
The navy said in a statement: "Delaying and reducing the number of recruits who go into the training organisations is a way of ensuring that manning structures are not over borne and that we continue to provide full operational capability.
"The Armed Forces remain committed to recruiting enthusiastic, determined and committed young people to fulfil challenging roles."
The reduction in recruits comes amid concern over the effect of the defence review on Devonport dockyard, home base of the largest ship in the Royal Navy, HMS Ocean, and Trafalgar Class submarines.
The Ministry and Defence is looking at cuts to its budget of between 10% and 20%.
The defence review is due to report in October.