Totnes offers shares to build wind turbines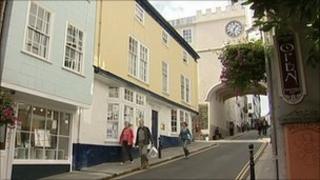 A Devon town is hoping to create its own wind farm by selling shares in the project.
Totnes Recyclable Energy Society (TRES) is inviting people to buy £800,000 worth of shares for two 100ft tall (30m) turbines.
If successful, they could be the first commercial turbines allowed in the South Hams area of Devon.
It follows a similar community-led energy project at Fintry in Scotland in which residents bought a turbine.
The Totnes scheme envisages two 2.3 megawatt turbines that it says will power 2,500 households, about a quarter of the town.
Planning obstacle
Alan Langmaid, of TRES, said the position of the privately-owned site near Ashprington meant the turbines would be "almost invisible" from the surrounding area.
He said the £4m cost of the turbines would be met by the developer, Dorset-based Infinergy, the shares and a loan.
Mr Langmaid said: "The beauty is that after the loan is paid off, it is producing renewable money for residents to be spent in the local area.
"It's like taking 2,500 households off the grid."
He said investors would start getting a return in two to three years.
Shares of £20 to £20,000 are being offered until 10 December.
Mr Langmaid admitted that, without planning permission, investors might not get all their money back.
No developer has yet succeeded in getting planning permission in the South Hams.
"But we are supremely confident," he said.
"They dare not turn another one down in the light of the government's pressure to lighten up on planning regulations and be more renewable friendly."
A South Hams District Council spokeswoman said: "We would never comment on an application until it's been to committee."