Autistic Society school in Devon 'may lose 30 staff'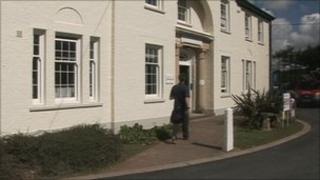 Up to 30 staff at a school run by the National Autistic Society (NAS) in Devon may be made redundant as part of restructuring, the charity has said.
Broomhayes School in Bideford has 204 staff and provides year-round education and care for children and young people aged between 10 and 21 with autism.
The society confirmed some posts were "at risk of redundancy".
It said a 30-day consultation began on Thursday and no action would be confirmed until the end of that time.
The school provides residential care for about 30 people. It is one of six around the country run by the society.
The society said the proposal to restructure existing staffing and ways of working was forward because of the several older students were due to leave and their places had not yet been filled.
The society said: "Whilst efforts are under way to bring in new students, unfilled places are costly.
"As a charity, it is not possible for the NAS to carry these costs or retain more staff than required to support the current number of students.
"The proposed restructure, if implemented post-consultation, would not only secure significant cost savings, but also provide the flexibility necessary to ensure the future sustainability of the school."