Mount Wise development site opened to public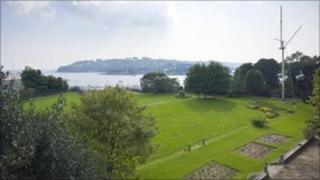 The site and plans for a £120 million re-development in a Devon city have been unveiled to the public.
The Mount Wise development for a "a village by the sea" will include 469 homes, office space and cricket pitch.
The former site of the Royal Navy Maritime Headquarters will provide homes to rent, buy or part own.
Chris Byers, from the Devonport Regeneration Community Partnership, said: "We're trying to create a thriving community."
"What we want to see is an area that people work and live in and also go about their leisure," he added.
"I think it's an area that is going to be a mixed community and one that takes advantage of the massive heritage and views that we have."
The 23-acre Mount Wise development is expected to take four years to complete.
Part of the plan is that underground bunkers built in World War II will be used by businesses to store valuable information and documents.