Plymouth in 'ghost town' warning over Devonport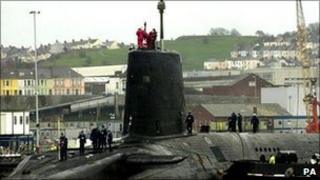 A union has warned that Plymouth will become "almost a ghost town" if Devonport dockyard is closed.
Unite has launched a petition to protect the dockyards ahead of a strategic defence review in October.
The Ministry and Defence is looking at cuts to its budget of between 10% and 20%.
That has raised concern about Devonport, home base of the largest ship in the Royal Navy, HMS Ocean, and Trafalgar Class submarines.
Dave Springbett, of Unite, said: "We want to send a very strong message to the government that Plymouth cannot survive without the dockyard.
"It is not just the people in the dockyards - it is the whole economy of Plymouth.
"Seven thousand jobs are associated with the navy and navy base and a further 7,000 depend on it.
"It creates 10% of Plymouth's income on its own.
"If you take it out of Plymouth, it will almost be a ghost town."
He said a petition, which is available from the union's offices in Longbridge Road, Plymouth, could work.
"Once the people of Plymouth get behind something they really get behind something.
"If you get thousands of signatures it will, along with everything else, have an effect on government."