Torbay recycle scheme is a 'success' despite complaints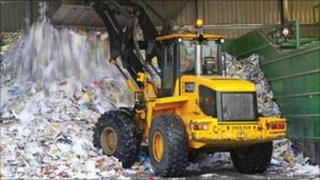 A new recycling service in Devon says it is a "success" despite receiving 1,000 complaints a day from Torbay residents.
Tor2 rolled out the service on 6 September and initially received 8,000 complaints from residents.
But Alastair Campbell from Tor2 said: "I'm encouraged by the high level of participation and support we've had."
He said the number of complaints had reduced and the company was working to resolve any problems.
'Best service'
"We're absolutely confident that the service we're providing is going to improve and will be up there with one of the best performing services in the country," he said.
"We have received a number of enquiries and complaints and they are all being dealt with and we have a high demand for additional bins because residents are very keen to recycle more."
Under the new system residents are required to sort out their own recycling with one box for glass, cardboard and foil; another box for paper, cans, mixed textiles, plastic bottles and aerosols as well as an indoor and an outdoor bin for food waste.
Previously householders had two wheeled bins - one for recycling and one for general waste.
Tor2 said the aim of the new service was to recycle 50% of all waste by 2012, saving an estimated £14m in landfill costs each year by reducing taxes and fines.
But some residents have complained that their bins had not been collected for three weeks.
Mr Campbell said: "We have an ongoing programme of consultation with customers, so if they are not comfortable with the resolution in their locality we will discuss it."