Apprentice man Christopher Farrell in fraud probe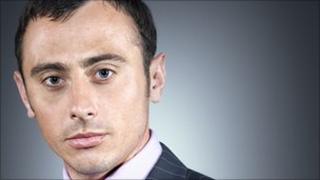 One of the contestants in BBC business talent show The Apprentice is on bail over a fraud allegation.
Mortgage broker Christopher Farrell, 29, from King's Tamerton in Plymouth, was arrested on 4 August in the city.
It has also emerged that the former Royal Marine was convicted in September 2009 for having a baton and a knuckleduster in his car.
The show's producers said a criminal records check in late August 2009 had revealed nothing of the case.
The weapons were found by police officers during a search of Mr Farrell's car in Plymouth.
He admitted two charges of possessing an offensive weapon and was given a conditional discharge and ordered to pay £847 costs at Plymouth Crown Court.
Devon and Cornwall Police confirmed that Mr Farrell was on bail until 27 October after being arrested on suspicion of fraud, but declined to comment further.
'Killer instinct'
Mr Farrell, who is due to appear in the new series of The Apprentice next week, says on the BBC show's website that he is not afraid to give people a "kick up the backside".
He adds: "I've been to the other side of things where friends lose legs, lose limbs, so I know I'm lucky to be where I am.
"I was a sniper in the Royal Marines and I take that killer instinct across into business."
Talkback Thames, which makes The Apprentice for the BBC, said it had received a police disclosure certificate on 16 August 2009 which confirmed that Mr Farrell had no previous criminal convictions or cautions.
Mr Farrell also did not tell Talkback Thames about the weapons conviction, which happened days before filming of the new series started on 10 September.
A spokesman said: "At no point during filming were the production company aware of Mr Farrell's conviction."
A BBC spokesman said: "TalkbackThames' selection process is in line with the BBC's policy to make appropriate checks on all contributors and contestants.
"The BBC asks for any information relevant including criminal convictions and makes a case by case judgement based on the information provided, the nature of the given programme and the nature of the information divulged.
"The series will be broadcast from next week as planned."
Mr Farrell was unavailable for comment.
The sixth series of The Apprentice was filmed last autumn and due to be screened in spring, but was delayed due to the general election.
At the time, Labour peer Lord Sugar was serving as business tsar in the government.