Ten Tors team 'told to avoid' death river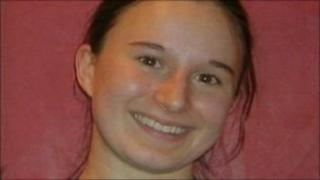 A teacher has told an inquest into the death of a schoolgirl on a Dartmoor trek that her team had been told not to cross the river which claimed her life.
Charlotte Shaw, 14, drowned crossing the swollen Walla Brook during training for the Ten Tors trek in March 2007.
Alice Fuller, who was assisting the group, said one of Charlotte's team had been told by phone to go another way.
Charlotte was one of a party of 10 from Edgehill College, now known as Kingsley School, in Bideford.
At the time of the trek, Mrs Fuller was teaching under her maiden name Alice Mann. She has since married team manager Chris Fuller.
She was a primary teacher at another school and said she was there to help out Mr Fuller.
She told the inquest at Devon County Hall in Exeter that one of the girls in the team, Charlotte Kennedy, had spoken to Mr Fuller on the phone and said "We can't cross the Walla Brook, what will we do?".
Mrs Fuller said the group were told not to cross it.
'Good spirits'
She said she and the other two teachers agreed it would be best for the youngsters to walk round the brook to Hanging Stone Hill and walk along a path where they would meet them.
The teachers were on their way there when a police Land Rover found them with news that Charlotte had fallen into the Walla Brook.
Mrs Fuller said the group had been in good sprits when she last saw them at around 0830 GMT at Rough Tor.
Coroner Dr Elizabeth Earland asked her: "Did you hear anyone say they wanted to come off the moor?" and she said had not.
The coroner also asked: "Was there nobody crying?"
Mrs Fuller answered: "Not that I remember."
Another teacher has given similar evidence although some youngsters have given evidence saying some wanted to come off.
The Ten Tors Challenge, which this year celebrated its 50th anniversary, is organised by the Army and involves teams of 14-to-20-year-olds enduring a two-day hike of up to 55 miles (88km) across Dartmoor.
The youngsters must carry their kit, cook for themselves and use survival and navigational skills.
The hearing continues.