Devon tar barrels event will be staged on bonfire night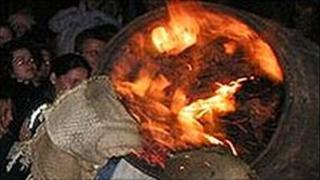 Organisers of a bonfire night custom where flaming tar barrels are carried through a Devon town have vowed to re-stage the event despite rising costs.
Over the past five years the cost of insuring the 17th Century Ottery St Mary Tar Barrels event has jumped from £2,000 to £25,000.
Organisers said a claim had been made against it every year since 2005.
Last year 12 people were burnt in a blast thought to have been caused by an aerosol being thrown into a barrel.
Andy Wade, president of Ottery Carnival Committee, said: "We have always made the event as safe as possible and have contingency plans in place with other agencies.
"We take this duty of care on board but we can only plan up to a point as we cannot legislate for a situation which is outside our control.
"We have insurance for this year and we will perpetuate the event for as long as we can but if we can't afford to get the public liability insurance we will be stuck.
"However, we will have 12 months to find the money for next year."
The event draws crowds of up to 20,000 people each year and raises thousands of pounds for charity.
John Green, a Scout leader from the town, said: "We receive a large financial donation from the proceeds of Tar Barrels, which is a major source of income... if it did not take place this would have a major impact on the Scouts' ability to fund the program of activities we undertake."
The custom of carrying flaming tar barrels through the streets of Ottery St Mary is thought to originate from a pagan ritual aimed at exorcising evil spirits from the town.