Devon girl finds green-fanged spider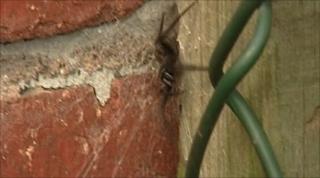 A 13-year-old girl discovered a rare green-fanged spider when she went to sit in the garden of her Devon home.
Jessica Buston, of Exeter, was so frightened when she spotted the spider that she called her father Mark.
It turned out to be a Segestria florentina, or tube web spider, living in a hole in the wall of her home.
Researchers believe exotic arachnids like Segestria florentina are arriving in imports of food and plants and can survive thanks to a milder climate.
When the Bustons looked closer, they found a family of eight of the spiders which can deliver a bite like being stung by a nettle.
Jessica said: "When I came out here to sit in the garden I saw the fangs coming out of a hole.
"I went to get dad because I thought it was a bit weird."
Plumber Mark, 40, said: "It sends a shudder down you. They're not a pretty sight."
The spiders, which have a 1in (2.5cm) long body, have a green metallic sheen to their fangs.
'Enjoy it'
Experts say the spiders originated in the Mediterranean and northern Africa and made their way across to Britain on cargo ships.
Naturalist Kelvin Boot said: "They were first discovered in Exeter in 1932.
"They have spread so now we get them in Plymouth, Ashburton, Bovey Tracy and in Bristol and I think as far as Sheffield as well.
"It looks as if it is one of these animals that has been biding its time and is now really starting to spread and increase in numbers."
He said people should be amazed, not frightened by them.
"These spiders are magnificent animals.
"They can deliver a venomous bite, but it can't cause too much of a problem, maybe a nettle rash type of reaction, so it's really nothing to worry about.
"My advice is just have a close look at it because it is a fabulous creature, with these wonderful iridescent metallic bronzy green jaws.
"Just enjoy it."