Plymouth Leyland cypress trees trimmed after complaints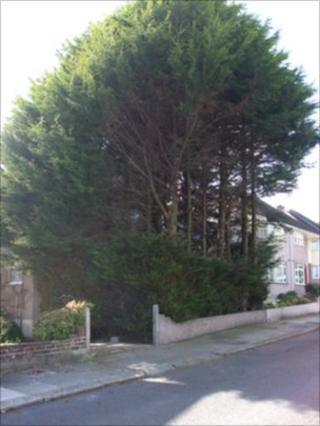 A Plymouth householder has partly cut back trees at the centre of a row about their height.
David Alvand, of Weston Mill, has about 16 Leyland cypress trees at the front of his house which stand about 35ft (10.6m) tall.
Residents complained in September to Plymouth City Council under anti-social behaviour legislation.
On Wednesday Mr Alvand was outside the house cutting back branches which were overhanging the pavement.
Mr Alvand, who on Thursday was clearing branches from outside his home, declined to comment.
Neighbour Ian Macpherson said: "It hasn't affected the height and it's a bigger eyesore now than ever. It's just horrific."
The council said it was hoping to meet Mr Alvand to discuss the trees.
'Berlin Wall'
It said in a statement: "Plymouth City Council has not at this point requested that David Alvand cut down his trees.
"We are in the process of completing a full assessment of his hedge height and have suggested a site visit for 20 October.
"This visit is not intended as an opportunity for mediation, it is simply to look at the current state of play and inform the next steps for all parties involved."
In 2003, Mr Alvand lost a legal battle against a 3m (9.84ft) high wall built around his property, which neighbours dubbed the "Berlin Wall".
A jury at Plymouth Crown Court decided that Mr Alvand had failed to comply with a planning enforcement order and fined him £700 with costs of £2,500.