Buoy to collect data on Dawlish shifting sands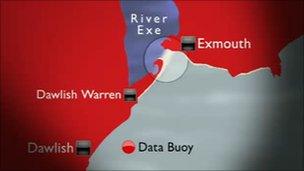 A buoy is being placed in the sea off the Devon coast to collect data about the movement of sand between Dawlish and Exmouth.
The data is being collected amid fears that the moving sand could eventually block the mouth of the River Exe.
Local businesses and the RNLI said that the shifting sand was already making navigation of the river difficult.
It is thought that the sand is shifting from Dawlish, eastwards, towards Exmouth.
Tina Burke, from Stuart Line Cruises, which takes people out to sea and along the river, said: "Our boats can only operate within a certain depth, so there are times when we cannot get to the top of the river or cannot get out to sea."
In recent years, the level of the beach has built up and the lifeboat slipway has had to be moved about one mile (1.6km) downstream to counter the build up of sand.
Kevin Riley, from the RNLI, said: "The river's changed dramatically in the last few years, the sand banks have moved and there's a new channel.
"We need to be able to get our lifeboat out to do the job it should be doing, and when you've got the appropriate conditions there's very little water for us to get in or out so that's why we had to move."
The buoy will collect data for the next few years before the information is reviewed.
Related Internet Links
The BBC is not responsible for the content of external sites.