Rise in Devon Air Ambulance call-outs to farm accidents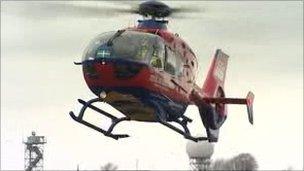 The number of farming-related call outs for the Devon Air Ambulance has reached its highest level for four years.
The charity's paramedics were called out to 32 agricultural accidents in the past 12 months - making up 12% of its total operations.
In 2006 the service had just eight such call-outs.
The charity said the growth in emergencies could be down to farmers working longer hours and using more complicated machinery.
Nigel Hare, clinical support officer, said: "When it comes to frequency and severity of nature, agricultural accidents are definitely the worst we come across.
"Farmers use dangerous equipment, which they tend to use very well on a day-to-day basis, but occasionally things go wrong."
Farming is the most dangerous industry in the UK, according to the Health and Safety Executive (HSE).
Its most recent research showed 38 workers died on farms in the year to the end of March, a "sizeable increase" on previous years.
In September, the HSE held a joint summit with the National Farmers' Union (NFU) to look at ways of reducing the number of farming accidents.
Ian Johnson, the NFU's South West spokesman, said: "In the South West we are particularly vulnerable because of the nature of our hilly terrain.
"Safety is something we are acutely aware of and trying to do something about."
Related Internet Links
The BBC is not responsible for the content of external sites.