Plymouth diver Tom Daley father's joy at gold medal win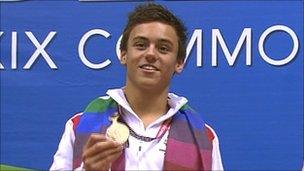 Plymouth diver Tom Daley's father said he watched his son win gold on television "with a tear in my eye".
Daley, 16, and his diving partner Max Brick, 18, from Southampton, secured the title in Delhi on Tuesday morning.
Rob Daley, 39, has been undergoing chemotherapy for a brain tumour and doctors advised him not to travel to Delhi because of the risk of infection.
"I watched it on telly and had a phone call within a minute of his last dive," Mr Daley said.
Mr Daley asked his son to phone home if he won and before he collected his medal and became caught up in news conferences.
"Dear of him he did do that," he said.
"He was over the moon and he wanted to speak to me as quick as possible because he knew I couldn't be out there with him."
Daley and Brick won gold in the 10m synchro platform ahead of Australia, with Canada third and Malaysia last in a four-team final.
Mr Daley said it was a tough competition, but he was confident his son and Brick would come out on top.
"They led right from the start," he said.
Daley and his father will be featured on a BBC One television programme, Tom Daley: The Diver and His Dad at 22:35 on Tuesday evening.
"Tom and I do have an exceptional relationship together," he said.
The programme includes Mr Daley's battle against a brain tumour which was first diagnosed about four years ago. The tumour was removed, but it has since grown back.
He told BBC News: "I finished my chemotherapy - my second cycle - last Friday and I feel exceptionally well.
"I've got my oncologist appointment to get my results on 5 November, but I take each day as it comes and each week as it comes.
"I do feel very well. I was going to say fit, but I'm not very fit - but I do feel well."
After the medal presentation in Delhi, diver Daley said he had worked very hard, but to come away with the gold medal was the "icing on the cake".
Mr Daley said he was exceptionally proud of his son's achievement.
"I'm very, very chuffed with him actually," he added.
Related Internet Links
The BBC is not responsible for the content of external sites.