FGW train breaks Plymouth to London non-stop record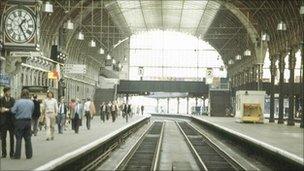 A train has broken the record for the fastest time from Plymouth to London Paddington, First Great Western (FGW) has claimed.
The non-stop train reached Paddington in 2 hours 43 minutes, 17 minutes faster than the previous record.
FGW said fast journey times between the South West and London were very important to the company.
Managing director of FGW Mark Hopwood said: "We've knocked 17 minutes off. I think that shows what can be done."
The company said timetables had been developed to best meet the needs of the region within the constraints of available resources and the existing rail infrastructure.
As an example, FGW cited a new high-speed morning service from December which will leave London Paddington at 0706 to provide an earlier morning business arrival into Exeter, with connections to Plymouth.
In July the company announced it was adding more carriages on its Night Riviera service because of the increase in demand for the sleeper from Penzance to Paddington.
Derek Phillips from the South West Chamber of Commerce said: "It will actually bring Plymouth much closer to Paddington, which is very important.
"The time it takes to get down to Plymouth currently is obviously a detraction to people relocating or doing business in Plymouth, so this is a great opportunity."
Related Internet Links
The BBC is not responsible for the content of external sites.