Plymouth Civic Centre up for sale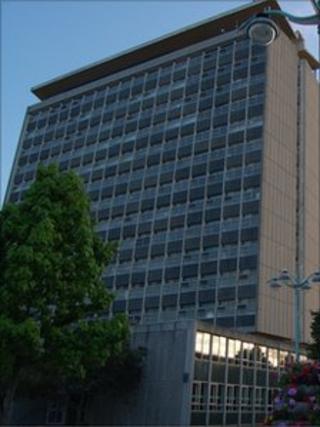 Plymouth's Civic Centre tower-block is being put up for sale.
The 15-storey building, opened in 1962, had been due to be flattened by the city council in an effort to save money.
But English Heritage gave it Grade II listed status in 2007, protecting it from the bulldozers.
The council says it cannot continue pouring money into maintaining the centre, which it claims has cost more than £650,000 over the past two years.
The authority says it would rather spend the money on other services.
The council is seeking interest from buyers for the whole area, including the nearby Council House and car park.
There is no price on the centre and agents Knight Frank say they are only looking for expressions of interest from buyers at the moment.
The council said if it could not sell the Civic Centre it could try to redevelop the site with the agreement of English Heritage.
Councillor Ian Bowyer, cabinet member for finance and property, said: "We are genuinely keen to see if there is interest in the building before we can go any further."
Chris Trevitt, head of capital and assets, said: "We have a few more years of make do and mend, but then we are going to have to spend substantial money on the building."
The plans to demolish the Civic Centre were part of a long-term shake-up of the council's premises.
But English Heritage listed the building after a proposal by the Twentieth Century Society.
English Heritage said it was a "very important post-war building and is an iconic feature in the centre of Plymouth".