Plymouth Royal Eye Infirmary services go to Derriford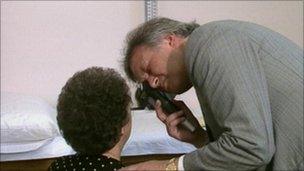 Opthalmology treatment for people with eye problems in a Devon city are being transferred.
Services currently provided at the Royal Eye Infirmary in Plymouth will be moved to Derriford Hospital.
The lease on the infirmary, which was built in 1897, is due to expire next September.
Urgent eye care outside normal working hours and care for patients needing overnight stays transferred to the hospital on Friday.
Plymouth Hospital NHS Trust first announced its decision to move from the 113-year-old infirmary in 2005.
It was originally hoped to provide eye services in a new purpose-built centre on the Derriford Hospital site, but the trust said that option was not affordable in the current financial climate.
Instead, plans are being drawn up for all ophthalmology services to be moved to Derriford site in 2011.
Consultant opthalmic surgeon Adam Booth said: "This is a positive step towards the future - re-provision of the Royal Eye Infirmary into accommodation that will be fit for purpose, improving patients' care, privacy and dignity and their overall experience."
It was an opportunity to ensure the delivery of an efficient, effective and streamlined service, Mr Booth added.
Patients who need emergency out of hours treatment are being asked to continue to call the infirmary's telephone triage service which is covered 24 hours per day.
Related Internet Links
The BBC is not responsible for the content of external sites.