Plymouth University students protest over spending cuts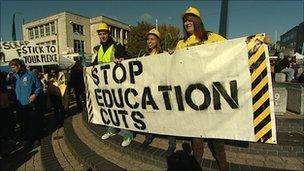 Students in a Devon city have held a protest against education cuts and plans to raise university tuition fees.
About 200 people marched through Plymouth following the higher education funding review.
Many are angry over the recommendation to lift the cap on the current fees of £3,290.
The protest was organised by the University of Plymouth Students' Union (UPSU). A similar protest is being being planned by students in Exeter.
If Lord Browne's recommendations are approved, a three-year typical degree would cost about £21,000.
If the cap was lifted, universities could charge more, but if fees rose above £7,000 they would only be allowed to keep a diminishing proportion of the higher charges.
Critics have said it could lead to students chosing a degree they could afford rather than a degree they wanted to study.
Students on the march in Plymouth, who were supported by some trade union members, said the Spending Review cuts would affect everyone.
"I think it's really important that we're all fighting the same fight," UPSU vice president Emma Wilson told BBC News.
"Cuts are not just happening to higher education - they're happening to the health service and a lot of public sector jobs are under threat too.
The union said marchers had received a lot of support from people in the city centre and very little criticism.
Related Internet Links
The BBC is not responsible for the content of external sites.