Social media promoting NHS Plymouth chalmydia testing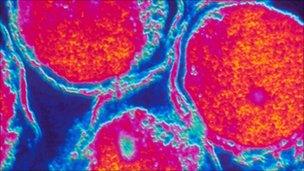 Social media sites are being used by a Devon health service to promote sexual health screening.
NHS Plymouth said chalmydia is the most common sexually transmitted infection in under 25s - with one in 12 young people being infected.
It is using Facebook and Twitter to encourage 16-24-year-olds to order a free and confidential test online.
Testing kits are also available from Connexions, Boots and health clinics and GP surgeries.
People who have only had one partner are also at risk, but NHS Plymouth said testing and treatment for chlamydia infection was "easy and painless".
If untreated chlamydia can lead to infertility, ectopic pregnancies and chronic pelvic pain in women, while men can suffer from urethritis and epididymitis.
Jane Michie, chlamydia screening coordinator, said it was important to get the message across to young people about the importance of screening
"In order to do this we need to make best use of the places that young people get information and communicate," she said.
"Social Media plays a massive part in this and we want to make sure make full use of this.
"I would like to urge all young people aged 16 -24 in the city who are sexually active to take a test as part of looking after themselves."
Ms Michie said tests should be taken every year until the age of 25 or if there is a new partner.
Friends of NHS Plymouth on Facebook and followers on Twitter are being sent messages encouraging them to order a screening test by clicking on a link and filling in their details.
Related Internet Links
The BBC is not responsible for the content of external sites.