Spending Review: Fears for Devon firms in spending cuts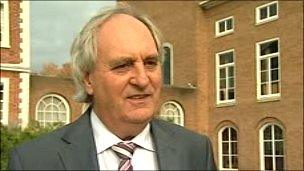 A business leader has raised concerns about the impact of public sector spending cuts on Devon's economy.
Chancellor George Osborne announced that government spending would be slashed by £83bn by the year 2015 in the Spending Review.
Council funding will be cut by of 7.1% which Devon County Council leader, John Hart said was "expected".
But Tim Jones of Devon & Cornwall Business Council said those relying on the public sector would be hit.
Mr Osborne sought to reassure the British public, telling Parliament: "Much of it will be achieved through natural turnover, by leaving posts unfilled as they become vacant."
Nearly 50,000 people are employed by local authorities in Devon, about one in five of the working population, according to latest figures in a report by the South West Observatory (SWO).
Mr Hart, of the Conservative-led council, said: "It's a hard budget, but we were expecting it."
He said that the council had been "preparing for it" over the past year and had reduced its employees by 750.
"We've re-shaped the county council, I've gone from seven departments to four and a half. I will reduce it even more if I have the opportunity.
"There is no doubt that, in future, we will have to make every pound we receive work even harder and do more, for less," he said.
But chairman of Devon & Cornwall Business Council, Mr Jones warned that firms which relied on local authority deals could be hit hard.
He said: "The general business stock in Devon is very vulnerable to cuts in the public sector.
"For every one of those jobs there is a knock-on effect to private sector businesses. That's the pain we are going to have to suffer.
"Maybe the 100,000 jobs that we gained, we are going to lose again."
But he added: "The government is talking about putting more of the business it is going to spend money on out for tender in the private sector, so there might be some profitability in there."
The South West Regional Development Agency's chief economist, Nigel Jump said companies based in the region might have to direct resources away from the domestic market.
He said the higher age of consumers "does affect the spending powers of our people".
"Generally it means a re-emphasis of some of the differences we have in terms of demands in our economy."
Producers had to move away from high dependence on domestic consumption, he added.
Chancellor George Osborne told the House of Commons that almost 20 per cent would be cut from the national budget for local government in cash terms over the next four years.
On Tuesday, Prime Minister David Cameron revealed that the Army would lose 7,000 personnel, the RAF 5,000, the navy 5,000 and the Ministry of Defence 25,000 civilian staff over the next five years.
Devon, which has 14,900 armed forces personnel and civil servants in defence-related employment, is expected to be affected. But the number of job losses in the counties is not known yet.
Related Internet Links
The BBC is not responsible for the content of external sites.