Call to make Dartmoor's Ten Tors event safer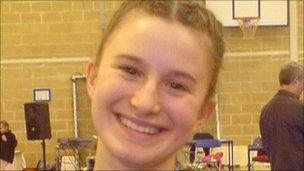 A coroner has called for all adults leading teams in Dartmoor's Ten Tors challenge to be properly qualified, following the death of a teenager.
Charlotte Shaw was training for the endurance event on 4 March 2007 when she fell into the fast-flowing Walla Brook and was swept away.
The 14-year-old was one of a party of 10 from the independent Edgehill College in Bideford, Devon.
Charlotte's mother is taking legal action against the school.
Greater Devon Coroner, Dr Elizabeth Earland, responded to the narrative verdict delivered by the jury at the inquest into Charlotte's death at Devon County Hall in Exeter by formally recommending that adult team managers and their assistants should have completed a nationally recognised qualification before they take part.
She also said children taking part in the Ten Tors should have completed as a team more than the two training exercises they do at present and that independent schools should be made aware of the Health and Safety Executive guidelines for outdoor activities that are applicable to state-run schools.
The annual Ten Tors event, organised by the Army, involves teams hiking up to 55 miles (88km) across Dartmoor.
Charlotte, from Frithelstock in North Devon, died of heart failure caused by drowning and hypothermia after she was swept into the flooded Walla Brook while helping a friend to cross during a training trip in poor weather conditions.
The children were unsupervised at the time, although they did have mobile phones to contact their teachers.
Three of the teachers had gone for breakfast at a cafe in nearby Princetown, another two had returned to the school after missing a rendezvous with the children at a checkpoint.
In their verdict the jury noted that the teacher in charge, Chris Fuller, had not done a full moorland leader's course.
They also said many of the group had asked their teachers to take them off the moor.
They concluded that all the children were cold and tired by the time they made the decision to cross the flooded brook.
However, they did decide teachers had advised the young people not to try to cross the stream.
The inquest was halted last December to consider whether criminal charges should be brought, but the Crown Prosecution Service decided there was not enough evidence to pursue a charge of manslaughter.
Dr Earland said: "The Ten Tors provides a unique opportunity for young people to push themselves on a personal voyage of development before they set out on life's great adventure.
"It would be a tragedy if it was to stop but the public need to be satisfied it is as safe as it reasonably can be, bearing in mind it is what it says, a challenge, not a survival exercise."
Lawyers acting for Miss Shaw's mother, Jennifer Wilkin-Shaw, have filed a High Court claim for negligence against her daughter's school and a teacher who led the overnight training expedition.
Earlier she said that she had lived with the "pain" of the inquest every day and that she felt the verdict was "worthy" of her daughter.
But she added that if she had known the circumstances of the training trip she would never have allowed her daughter to take part.
She said: "I think if you have common sense you don't leave children on the moor alone for seven hours, soaking wet and crying."
A spokeswoman for Edgehill College, now known as Kingsley School, said in a statement: "We are deeply saddened by the circumstances that led to Charlotte's death and the narrative verdict of the inquest has acknowledged this was a tragic accident.
"We mourn Charlotte's loss with her friends and family."
An Army Spokesman said: "The Army organisers of the Ten Tors Challenge have noted the recommendations made by the Coroner and will make every effort to act on them."
Related Internet Links
The BBC is not responsible for the content of external sites.