Girls swept into sea off Devon describe ordeal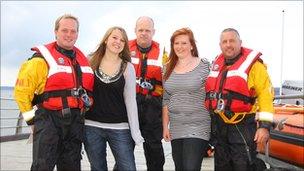 Two teenage girls who were rescued after they were swept into the sea off Devon have described their ordeal.
Hannah Woolacott, 16, and Charlotte Wright, 15, from Exeter, were swept off the sea wall at Dawlish on 9 October.
They were rescued by a lifeboat crew after passers-by threw them an inflatable 'space hopper' toy to hold on to.
Earlier the girls visited Exmouth Lifeboat Station to thank their rescuers.
Miss Woolacott said: "We had missed the train and so were walking along the Dawlish sea wall, which we had done many times before.
"It was quite calm but then, all of a sudden, there was a large wave that swept Charlotte into the sea and a second one that got me straight after."
The girls, who were both described as strong swimmers, were unable to reach the shore because of the strong current and weather conditions.
Giles White, the lifeboat's helmsman, said: "We had one shot at it as the waves were rebounding off the sea wall. We just had to take it."
Miss Wright, who suffered secondary drowning in the incident, said: "I couldn't remember the [lifeboat crews'] faces very well as I was drifting in and out of consciousness.
"We are just so grateful. If it weren't for people like this risking their lives to save ours, we wouldn't be here today."
Related Internet Links
The BBC is not responsible for the content of external sites.