Why huge Devon stag Emperor was killed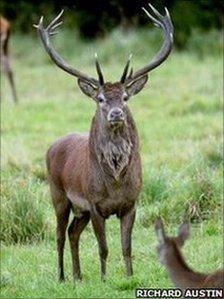 The shooting of a red deer named The Emperor has raised the issue of stalking - the tracking and shooting of the animals.
The Emperor, nearly 9ft (2.75m) tall, was thought to have been the biggest wild land animal in the UK - though some experts have questioned this.
Stalkers see their activities as an important part of land management - a key method of regulating the number of deer in the wild.
For professional stalker Simon it is another working day as he unloads three deer. Later he is taking a course for people who want to stalk.
If you want to go stalking with him it will cost £160-£180 a day and if you want the head and antlers - the trophy - of your quarry it will cost you between £2-£3,000.
If you have a rifle licence and the permission of the landowner you can go stalking yourself.
Police advise stalkers to get a basic deer stalking certificate (DSC) and companies run by professional stalkers offer training for the DSC.
For professional stalkers like Simon, concerns about the shooting of Emperor were unjustified.
He said: "It's a stag. It's been shot. That's how it happens.
"I've shot three deer this morning.
"It's something we do every day."
According to the Exmoor and District Deer Management Society, numbers have been stable on the moor at between 2,000 and 2,500 since 1999.
But Simon said professional deer stalkers like himself did not usually go out for trophies like Exmoor Emperor.
He said: "When a deer manager goes out, he won't shoot what he sees, he'll take a certain number of young, a certain number of mature and a certain number of old.
"It's the clients who purely want a trophy.
"If they go down to Devon to shoot a stag like that it's because they want a trophy."
The size of the Emperor, which has been called the largest wild animal in the UK, was actually unexceptional.
"Three hundred pounds in Devon is not particularly big," Simon said.
Former deer manager Peter Donnelly said stalkers came from many walks of life and included business people and farmers.
And he was not surprised the stag had been shot.
"Some people are avaricious and if it's a super quality deer that's all they see," he said.
"The deer was in his prime, he was heading to Exmoor to rut and he should be allowed to carry out his natural functions for another year.
"Now he is no longer there to pass on his genes."
He suspected the Emperor had been culled as a trophy because its age - estimated at 10-12 years - meant its meat would have been relatively tough.
He said: "They have to be harvested or culled, but normally you take out the poorest quality or the oldest.
Related Internet Links
The BBC is not responsible for the content of external sites.