Cardiologist Motwani 'perplexed' by patient's death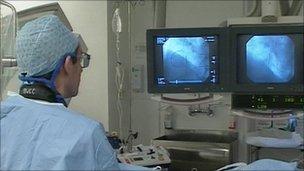 A Devon-based heart specialist has told a misconduct hearing a patient's death while undergoing an alternative to open-heart surgery was "perplexing".
Dr Joe Motwani is accused of performing the PCI (percutaneous coronary intervention) procedure inappropriately on some patients at Derriford Hospital.
The General Medical Council (GMC) was told he acted out of personal ambition and ignored patients' best interests.
One of his patients died while undergoing the procedure in April 2006.
PCI, more commonly known as coronary angioplasty, involves accessing blocked arteries by inserting a narrow wire through the patient's wrist.
It is claimed Dr Motwani's actions were "dangerous, irresponsible and inadequate" and represented a serious failing in technical standards.
But giving evidence to the GMC hearing, Dr Motwani said he believed the patient had suffered from a "vicious cycle" in which low blood pressure and narrowing of the arteries all played a role.
He said: "It was just a devastating occurrence at the time, and there's still a question in my mind about the occurrence.
"I was just devastated when that happened."
Dr Motwani said he was "in a daze" when he spoke to the patient's wife.
"I just tried to explain it to her as best I could at the time, recognising that my understanding of everything that happened was incomplete," he said.
Even though she had just lost her husband, Dr Motwani told the hearing she asked him if he was all right because she had never seen anyone look so upset.
He said he offered to discuss her husband's death again a few days later but the widow decided not to speak to the doctor again.
Asked why the patient became unstable, Dr Motwani replied: "My answer is, I don't know - it was very perplexing."
Dr Motwani originally faced 30 allegations relating to 24 patients.
But following a series of legal arguments and a walkout by an expert witness who admitted Dr Motwani was more experienced in the PCI field than he was, he now faces charges in relation to nine patients.
Dr Motwani, who has worked at Derriford Hospital in Plymouth since 1999, denies misconduct and the hearing continues.
Related Internet Links
The BBC is not responsible for the content of external sites.