Little Ted's abuse report 'will not be fully published'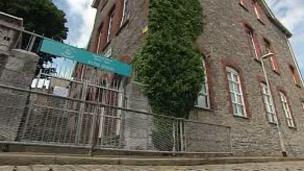 A council's report into a Devon nursery where a member of staff sexually abused young children will not be published in full, the BBC has learnt.
Vanessa George, 40, from Plymouth, was jailed last year for abusing toddlers at Little Ted's Nursery.
Plymouth City Council initiated a serious case review into what happened.
The council said that only the executive summary of the review would be published, but added that it would be a "very full" summary.
George took photographs on her phone of her abusing toddlers at the nursery in the Laira area of the city.
She was jailed at Bristol Crown Court last December for an indeterminate period after admitting seven sexual assaults and six counts of making and distributing indecent pictures of children.
The mother-of-two was told she would serve a minimum of seven years.
No other staff at Little Ted's were involved in the abuse.
The nursery was closed in June 2009 after the abuse was discovered and the serious case review into what happened was ordered by the council.
Its publication has suffered several delays, partly due to arguments about what contents should be released, BBC South West Home Affairs Correspondent Simon Hall said.
The news that only the summary is to be published has angered some city councillors, who believe the full report should be published.
Those who want it all released said it was necessary to ensure the public was confident the case had been comprehensively investigated and lessons learnt.
Labour councillor Brian Vincent, of the city's Efford ward, said: "I feel that sometimes constituents feel that there is some things being held back.
"Obviously there are certain things within a report that are better not being made public, but I do believe that if we can have a fuller report that we should be going down that line."
The city council, led by the Conservatives, said the law did not require full publication of the report.
A spokeswoman said: "As the report was commissioned before 10 June, the Little Ted's serious case review is not required to be published in full.
"However, as the [Local Children's Safeguarding] Board was aware of this, the summary that will be published is a very full executive summary, as you will see when it is published."
The council added that the board planned to publish the summary as soon as possible.
Related Internet Links
The BBC is not responsible for the content of external sites.