Emperor Exmoor deer kill brings call for protection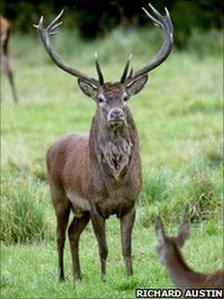 Animals like the Emperor of Exmoor, a red deer shot dead in Devon, should be protected, according to a group of MPs.
The stag, which stood more than 9ft (2.75m) tall, was thought to have been the biggest wild land animal in the UK.
A witness reported hearing two shots and seeing the carcass being taken away at Rackenford in the north of the county.
Five backbenchers have signed a Commons motion, describing the act as "senseless destruction".
The deer is thought to have been killed by a licensed stalker.
Shooting stags is allowed in the season by stalkers armed with licensed rifles and with the permission of the landowner.
But the MPs say such a "beautiful" deer should have been spared "to live out his life as a magnificent example" of his species.
And they are urging the government to protect what they call "special individual animals".
David Crausby, Labour MP for Bolton North, told BBC News: "It's an absolute outrage in my opinion that people should take pleasure from shooting such a magnificent animal."
The motion has also been signed by Labour MPs Jim Dobbin and Michael Connarty, Liberal Democrat Bob Russell and Mark Durkan of the SDLP.
But some people argue that older stags like the Emperor need to be culled for the benefit of the herd.
The Emperor is thought to have been about 12 years old, but red deer can live to 15 or even 20 years.
At more than 300lb (135kg), the Emperor was a big representative of his species, although not the largest ever recorded.
Michael Yardley of the Shooting Sports Trust said: "A deer past this age may properly be shot, and, indeed, should be shot, to allow younger fitter beasts into the harem, and also because it may well die of starvation as its incisors deteriorate."
Related Internet Links
The BBC is not responsible for the content of external sites.