South Hams Devon's 'least affordable' housing area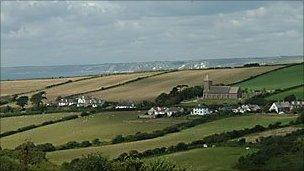 The South Hams is the least affordable place to live in Devon, according to a report from the National Housing Federation.
The federation's South West Home Truths 2010 reveals it came top of the county's least affordable areas.
It said the average house price in the South Hams is 15 times the average person's income.
In the year to June, house prices across the the region rose by approximately 8%, the report said.
The report has been published a week after the government's decision to cut the affordable house-building budget by 60% was announced in the Spending Review.
With the average home in Devon costing £225,038 - almost 13 times the average individual income of £17,670 - the federation said home ownership on the open market remained out of reach for many people in Devon.
In the South Hams, the average home costs £283,420, making it about 15 times the average income of £18,949.
Plymouth was at the other end of the scale, with an average house price of £153,109 making it about 8 times the average income.
Catherine Brabner, the federation's regional manager, said the housing need in the South West was reaching "desperate levels".
She said it was vital local authorities continued to work with housing associations to ensure the supply of affordable homes did not dry up.
Related Internet Links
The BBC is not responsible for the content of external sites.