Devon pet owner fights dog seizure order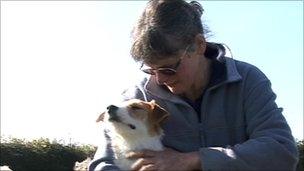 A Devon pet owner has appealed against a court's ruling that she must hand over about 80 dogs to police.
Diana Curtis, of Peters Marland, was given an Anti-social Behaviour Order (Asbo) after neighbours complained about noise created by the dogs.
She was told to give up all but six of the animals. When she did not comply, police were given a court order to remove them from the property.
They were taken in about two weeks ago and are being kept in kennels.
Keeping them is costing police more than £700 a day.
The appeal means that police must keep the dogs in the care of local kennels while the court process continues.
The appeal, lodged by Mrs Curtis, 52, at North Devon Magistrates' Court in Barnstaple, is expected to be heard at Exeter Crown Court on a date to fixed.
If the court's decision is upheld, police said they intended to re-home the dogs "as quickly as possible".
Since the dogs were seized, six puppies have died as a result of illness. Vets continue to monitor the health of the remaining animals.
Supt Kevin Harris, commander for North Devon, said: "There are no real winners in this case and it is particularly distressing that these dogs must now remain in kennels while the court process is ongoing.
"We are mindful of their welfare as well as the cost implications but we must also respect that Diana Curtis has a right to appeal.
"We hope this case can be resolved as quickly as possible."
Mrs Curtis said: "I'm distraught and I'm worried about the dogs.
"They only barked when I took them out.
"The police could save a lot of money by letting me have the dogs back."
Related Internet Links
The BBC is not responsible for the content of external sites.