Weather delays return of HMS Ocean from five-month tour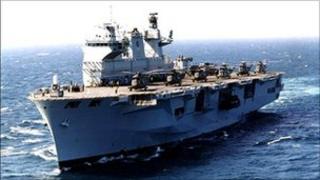 Bad weather has continued to delay the Devon homecoming of the Royal Navy's largest warship, HMS Ocean.
The ship, which was due into Devonport on Friday morning following a five-month deployment, is now not expected until Saturday morning at the earliest.
The navy said the arrival of the ship, which has been affected by high winds and tides, remained weather-dependant.
HMS Ocean visited the US, Brazil and Nigeria during the 16,000-mile (25,700km) tour.
Royal Marines from Plymouth-based 42 Commando onboard the vessel conducted amphibious exercises and patrols during the tour.
'Busy and varied'
HMS Ocean's Commanding Officer Capt Keith Blount said the tour had been "incredibly busy and varied".
Captain Blount said that the ship's crew had been aware of the publication of the Strategic Defence and Security Review (SDSR) last week which revealed that HMS Ocean could be decommissioned.
SDSR said a study would be carried out on HMS Ocean and HMS Illustrious to decide which of the two ships provided the most effective helicopter platform capability and which should be scrapped.
Capt Blount said: "It was something that was in the background of our activity.
"We were aware that issues were being discussed and debated, but of course we were in the front line wearing uniform, doing the job that we all love and fortunately able to leave the really difficult stuff to the guys wearing suits."