Locals split over Exmoor Emperor's 'death'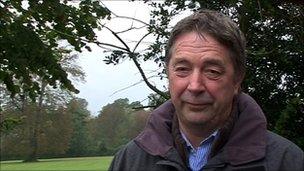 Doubts have emerged over whether a stag shot in Devon was the Exmoor Emperor, which was thought to have been the UK's largest land animal.
An unnamed witness told a local reporter that the giant red stag was the 9ft (2.75m) Exmoor Emperor.
The witness reported hearing two shots before seeing the carcass being taken away near Rackenford.
But some locals have cast doubt on whether the stag could have been definitively identified as Emperor.
Some have said there are a number of large stags on Exmoor.
The stag was given the name in 2009 by photographer Richard Austin because of its impressive antlers.
Tom Yandle chairman of the Devon and Somerset Staghounds said: "I just don't think anyone knows which is which.
"There are plenty of big stags on Exmoor."
Mr Austin, who photographed the stag, said: "No-one would be more delighted than me if he was found alive."
He said the antlers of deer were like a human's fingerprints and would positively identify the animal.
"It was a nickname. Exmoor Emperor has a nice ring about it."
Martin Hesp, reporter on the Western Morning News, who broke the story, said: "The Emperor is dead and gone.
"The witness knew the stag well.
"There is absolutely no chance of it springing back to life."
Farmer Lesley Prior from Oakford near Rackenford where the stag was reported to have been shot, said: "I think it's quite possible it could have been another animal in the absence of any evidence.
"There are lots of big stags around here."
Shooting stags is allowed in the season by stalkers armed with licensed rifles and with the permission of the landowner.
The Emperor is thought to have been about 12 years old and at more than 300lb (135kg), it was a big representative of his species, although not the largest ever recorded.
There are about 2,500 red deer on Exmoor.
Related Internet Links
The BBC is not responsible for the content of external sites.