Cannabis production in Devon 'up 450% in five years'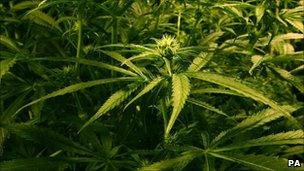 Cannabis production offences in Devon have increased by 450% in five years, Devon and Cornwall Police say.
Offences ranged from drug users growing a crop in their own homes to large-scale cannabis farms in urban properties and also rural areas.
Police said the drug's reclassification and the large rural areas in the county were believed to be factors that could partly account for the rise.
The number of offences increased from 26 in 2005 to 143 in 2009.
Det Con Sid Willet, drugs liaison officer with Devon and Cornwall Police, said there was no single explanation for the increase.
But he said police were aware it had coincided with the drug's reclassification from Class B to Class C in 2004, before it was returned to Class B in 2009.
He said: "I think there may have been some cloudiness around this issue, and certainly organised crime groups exploited what may have been considered to be a loophole.
"It was never a loophole, it was never made legal."
He added that rural areas also attracted large-scale producers.
He said: "It goes without saying that we have a huge rural area outside Plymouth, or Torquay or those kinds of areas, therefore it's going to be easier for them to secrete themselves.
"Cannabis does smell quite strongly, so they need to keep it away from people as much as possible."
Related Internet Links
The BBC is not responsible for the content of external sites.