Devon to Wales ferry link gets interest from new backer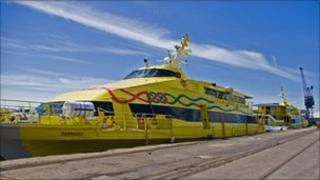 Plans for a £3m passenger ferry service linking north Devon and south Wales could soon be back on track after the project's original investor pulled out.
Catamaran firm Severn Link had hoped to start the route at Easter but delays in creating Swansea landing facilities led to it being put off until next year.
Then another blow was dealt when the initial investor withdrew.
However, Severn Link founder Chris Marrow has revealed that his firm is now in talks with a new backer.
Mr Marrow said: "We've had quite a bit of interest, but finalising something is pretty difficult.
"However, we are in the middle of talks with this new potential investor and we hope to have completed negotiations by the end of the year."
As well as wanting to run a 50-minute passenger service between Swansea and Ilfracombe, Severn Link is also considering the feasibility of a route between Cardiff and Minehead in Somerset.
The firm has already conducted sea trials of the catamarans that would be used to cross the Severn Estuary.