Derriford Hospital failures 'led to death'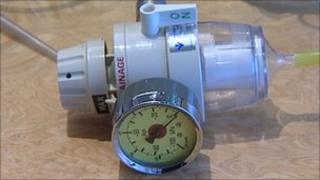 An inquest jury has recorded an open verdict into the death of a man who died after a bladder operation at Derriford Hospital in Plymouth in 2008.
Details of a confidential hospital report into the death of retired civil servant Cecil Barnes, 79, can now be revealed.
It describes 15 minutes of "separate process failures together with gaps in skills and experience" which left Mr Barnes dead.
It also describes how the experience left staff traumatised and makes 17 recommendations for change.
The report, obtained by the BBC, says that at 0100 BST on 9 July 2008, six days after the operation, Mr Barnes "collapsed with copious vomiting".
The nursing team and resuscitation team were called, but before they could start work they needed to clear Mr Barnes's airway and for this suction was required.
Wall-mounted suction equipment could not provide enough suction because, it was later discovered, one filter was blocked and another was partially blocked.
"The clinical team were now at a heightened state of anxiety," says the report.
'Skills gaps'
An emergency portable suction machine was brought to Mr Barnes's bedside, but no-one there could get it to provide enough suction "because it was not switched on and/or the section controller was set low".
The report says: "There were gaps in team skills and experience and in general staff were not familiar with the use of the suction machine."
Staff who had the expertise to operate it "were attending to other tasks".
A resuscitation trolley was brought in but there was no suction at all because the oxygen cylinders driving the unit were not switched on and again, no-one there knew how to operate it.
The report says: "There were gaps in team skills and experience... with the use of this specific suction unit".
Advanced techniques to clear Mr Barnes's airway were not attempted because, again, no-one there had the skills and no-one else was available.
It says "access to other skilled staff is limited" at night.
Mr Barnes was pronounced dead at 0115 BST.
The hospital report says that "all staff have been affected by this incident, in some cases traumatised".
Recommendations from the report in October 2008 include a better checking of equipment by ward staff and standardised portable suction machines "as a matter of priority".
It also recommends a review of the skills of resuscitation teams on advanced airway skills.
A senior doctor at Derriford told the inquest on Monday that the hospital was "very much safer" since the report and he did not believe an incident like it would happen again.