Train carriage evacuated in Exeter smoke alert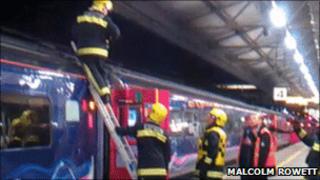 A train carriage was evacuated at Exeter station after clouds of smoke billowed from its roof.
The train from Paddington was leaving Exeter St David's station about 1830 GMT on Monday when it came to a sudden halt, according to passengers.
Travellers were asked to get off the First Great Western (FGW) train before firefighters were called.
The smoke was traced to an electric fan. The train was cancelled and passengers were put on later services.
No danger
Passenger Malcolm Rowett, 51, who was heading home to Cornwall with his family, said: "The train was leaving Exeter when it came to a halt with a jolt.
"We were told to get off the train and there was smoke billowing from the roof.
"It was dramatic, but we never felt in any danger."
Mr Rowett said his family could find no space on the next train and were two hours late arriving at Par in Cornwall.
An FGW spokeswoman said: "We think one of the vents had some litter stuck in it.
"We apologise for the delays and appreciate the patience of passengers."