Plymouth heart doctor ran 'careless' tests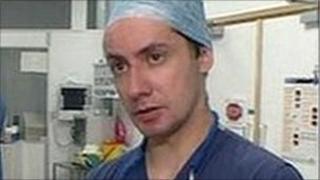 A Plymouth-based heart specialist carried out medical trials which were "inadequate, careless and unethical", a misconduct panel has found.
The General Medical Council found the actions of Dr Joe Motwani fell short of expected standards.
But he was cleared of inappropriately performing PCI (percutaneous coronary intervention) procedures on some patients at Derriford Hospital.
The GMC will rule later on whether his fitness to practice was impaired.
Dr Motwani faced charges relating to nine patients and two clinical research trials, and of misusing PCI, a procedure he developed to clear blocked arteries by inserting a wire into a patient's wrist.
During the five-month hearing Dr Motwani was found to have performed PCI on patients without conducting prior assessments.
But the Panel found that there was no obligation for him to do so after a defence expert maintained that "characteristics and symptoms would 'trump' any readings made by either of these techniques".
The hearing also found failures in two clinical research trials, DECIDER and ROCCSTAR, on which Dr Motwani worked as the principal investigator.
Incomplete records
He was found to have failed to follow protocol and report serious adverse events, as well as to "properly obtain consent from patients".
Consent forms for both trials were found to be incomplete, unsigned by a researcher, or signed by the patient after the process had been performed.
Dr Motwani was described as "inadequate and careless" in running ROCCSTAR and fell "short of the standards to be expected of a medical practitioner undertaking research".
But the panel rejected allegations that he performed PCI on a patient, referred to as C4, after advising them that there was a waiting list of more than one year for another treatment, after it was found that a locum had provided the information.
Representing the GMC, Andrew Hurst said Dr Motwani was held in great esteem by some patients and colleagues but he "crossed the line into pushing the boundaries, furthering ratio and reputation, and left the patient behind".
But the panel rejected this, saying that evidence "demonstrates a painstaking and rigorous pursuit of your [Dr Motwani] patients' best interests through the provision of optimal care".
The panel is yet to decide whether Dr Motwani is fit to practice as a doctor and whether any sanctions should be taken against him.