Open verdict on Derriford Hospital death man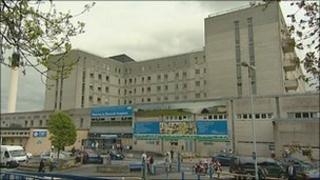 An inquest jury has recorded an open verdict on the death of a man who died after a bladder operation at Derriford Hospital in Plymouth in 2008.
The inquest heard that six days after the operation in July 2008, Cecil Barnes, 79, became violently sick, inhaled vomit and collapsed.
Three devices to clear his airways were faulty, or staff were not trained to use them, the inquest heard.
The inquest jury failed to agree on three questions relating to the death.
Plymouth coroner Ian Arrow invited them to record an open verdict.
Mr Arrow said the outstanding questions, on defects in the process of care, the system of care and the equipment, went to the very heart of the matter.
Retired civil servant Mr Barnes died 15 minutes after staff were alerted, the inquest at the Copthorne Hotel in Plymouth heard.
A confidential report described "separate process failures together with gaps in skills and experience" and made 17 recommendations.
Plymouth Hospitals Trust said all resuscitation equipment had been replaced and staff given proper training.
Medical director Dr Alex Mayor said after the inquest that "many improvements" had been made.
He said: "I apologise unreservedly for any upset that has been caused by the circumstances surrounding his death.
"As with any tragedy such as this there are always lessons to be learned.
"The trust learned many lessons from this case and many improvements have been made and continue to be made."
Mr Barnes' daughter Sue Murton said she was "surprised" at the verdict.
"It opens up more questions than answers," she said.
"But what was always important is that we had some sense of accountability for this incident and those responsible were held to account."
Mr Barnes' son Paul said he was disappointed.
"My dad worked for 45 years without a day off, he said.
"I feel as though he was let down by the system.
"The one time he needed to rely on the hospital, it failed him."