'No FA action' over Devon derby violence in Plymouth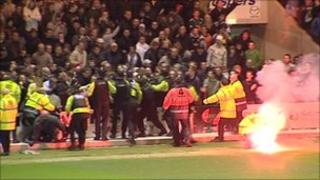 The Football Association is not taking action against Plymouth Argyle over violence at a recent match against Exeter City, the football club says.
At least 20 people were arrested on 9 November at the game in Plymouth.
Argyle said the FA had carried out an investigation and written to both clubs, informing them that it did not intend to take the matter further.
However, the FA added it may consider action if there were more problems. The teams are due to play in December.
Stadium ban warning
The Johnstone's Paint Trophy match was the first Devon derby between the two teams for more than eight years.
Violence broke out in the stands during the game when bottles, fireworks and coins were thrown at police and stewards, and one steward was knocked unconscious and kicked as he lay on the ground.
Visiting fans were also attacked as they tried to leave Home Park stadium.
Argyle said it was involved in the FA investigation, which was carried out in conjunction with Exeter City and the match referee, James Linington.
Argyle's general manager Dan Thomas said: "We are grateful that the FA have seen fit not to take this matter further.
"Our own enquiries, and those of the police, regarding incidents that occurred inside and outside of the ground are continuing.
"Anyone identified as having played a part in these disturbances will be banned from Home Park."
The FA said it may have to consider disciplinary action if it received further reports of spectator misconduct at the ground.
Mr Thomas said: "We are determined to make Home Park a 100% safe and welcoming venue for true football supporters, whichever side they follow."
The two sides are due to meet again in League One on 11 December.
About 60 police officers were on duty during the last match. Devon and Cornwall Police said more officers would be on duty during next month's game.