Haldon Hill weather plan not being put into action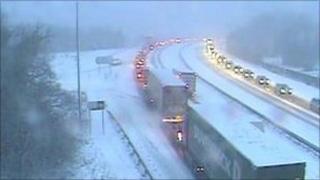 A severe weather action plan to prevent a repeat of chaos caused by snow in Devon over the past two years is not to be put in place yet, officials say.
Hundreds of motorists were stranded for hours on the A38 and A380 in 2009 and earlier this year, prompting the plan.
The Met Office has issued a severe weather warning, including snow.
Staff involved in the plan - including the county council, highways officials and police - said it could be brought in later if forecasts worsened.
The severe weather plan includes the use of "spotters" at the top of Haldon Hill on the A38 and Telegraph Hill on the A380 to give early warning of snowfall.
Advanced snow ploughs would also be deployed to keep at least one lane up and down the hills clear, and create a break in the barrier which would allow vehicles trapped at the top of the hill to turn around.
The severe weather plan, launched in September, also includes the use of rolling road blocks on the M5 to control traffic, and the use of Chudleigh's town hall as a designated rest centre.
Worst hit
It was developed following a report which concluded there had been some failings in emergency responses and a lack of information for motorists.
The emergency response would be co-ordinated from a control centre at Kennford.
Devon County Council, the Highways Agency and police met on Thursday afternoon.
Despite saying they currently were not putting the plan into action, they added the situation would be re-assessed depending if later forecasts showed the possibility of snow showers moving in.
They said the biggest issue was currently the potential of icy roads in Cornwall, as well as north and west Devon.
Gritters were due to be out on all main routes in Devon until 1900 GMT, the county council said.
They were also due out again at 0400 GMT on Friday, except in Exeter, it added.
The Met Office said the west of the county was likely to be worst hit overnight, with snowfall expected over western Exmoor and then Dartmoor, as well as snow showers away from the coast.
Widespread icy patches were also expected on untreated roads.
Drivers have been asked to keep themselves up to date with the latest weather forecasts and to prepare for wintry conditions.