Apology after Devon paramedic's error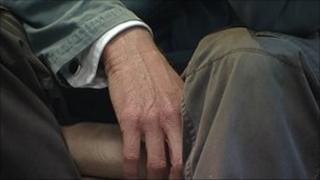 An ambulance service in Devon has offered its "sincere apologies" after a paramedic mistakenly injected adrenalin into a patient's vein rather than a muscle.
The incident happened in Plymouth on 2 November.
The 39-year-old patient, who was being treated for anaphylactic shock, said he thought his heart and brain were going to "explode".
An investigation is being carried out into how the incident happened.
The man, who does not want to be named, said he was running to work when he was bitten by a dog and started to go into anaphylactic shock.
He went to a local small injuries unit and was given medication before an ambulance was called to take him to the city's Derriford Hospital.
'Mistake recognised'
He said: "In the back of the ambulance the paramedic gave me some more medication in my left and right arm... I didn't question what it was.
"I thought my heart and my brain were going to explode and moments after that I can't remember any more.
"I could have died... this is by far the most frightening and horrific experience that I have ever been through."
South West Ambulance Service offered its "sincere apologies to the gentleman in question".
A spokesperson said: "The Trust always strives to deliver the highest standards of care, but unfortunately it appears that this was not achieved in this instance."
He added: "The Trust takes matters of this nature extremely seriously and is taking all the necessary steps to ensure that such an incident is prevented in the future."
The spokesperson said the paramedic responsible realised immediately that a mistake had been made and reported it on arrival at the hospital, as well as raising it with the Trust' s incident reporting system.
Plymouth Hospitals NHS Trust said while the joint investigation into the incident was ongoing it would be "inappropriate" to comment, adding: "We are working closely with our colleagues at the South Western Ambulance Service and will ensure the findings of the investigation are shared across organisations."
The patient, who is still recovering at home from the incident, said: "I just want some answers.
"I've been that close to death that I never want to be that close again."