'Angry' Plymouth father jailed for death of baby Kodi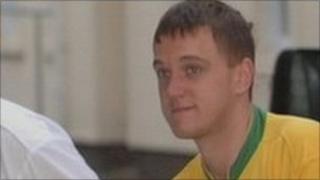 An angry father woken from an afternoon snooze has been jailed after admitting killing his three-month old son.
Kodi Martin, of Beaumont Road, Plymouth, died in November last year, three weeks after being admitted to hospital with injuries.
Graeme Draper, 26, who had pleaded not guilty to murdering his son, admitted manslaughter when he appeared at Truro Crown Court.
The judge, Mr Justice Royce, sentenced Draper to three-and-a-half years.
The court was told Draper had been dozing in front of the television while watching a Formula One Grand Prix when he was disturbed by Kodi.
When Kodi did not stop crying, Draper lost his temper and had "a mad couple of minutes" in which he threw him into a baby bouncer then grabbed him so violently his head snapped back.
The child suffered fatal brain injuries as the result of his head being thrown backwards and forwards so quickly and died in hospital three weeks later without regaining consciousness.
Jobless Draper lied to doctors about how he had caused the injury and tried to blame the baby bouncer for shaking the baby to death.
He only broke down and confessed when detectives brought it into the interview room to show him that his account was physically impossible.
Sentencing Draper, Mr Justice Royce told him: "It is apparent you were in a bad temper on that day and, as you were ultimately to admit, you had a mad couple of minutes during which you threw Kodi into the baby bouncer before picking him up again.
"The pathologist concluded the force involved would have been much more than gravity for a drop of three and a half feet.
"I bear in mind you did not intend to cause really serious harm and I accept you are remorseful and you will have to bear the burden of knowing you have killed your young son."
Mr Andrew Oldland, prosecuting, said Draper had an on-off relationship with Kodi's mother Tammy and on the day of the killing he was annoyed at being left alone in charge of the baby while she went shopping for ten minutes.
Mr Geoffrey Mercer, QC, defending, said his client's remorse was genuine and Kodi had been injured "in a few moments of temper of frustration".
"Those who saw him at the scene said he was a broken man," he added.