Plymouth Argyle face extra '£15,000' police bill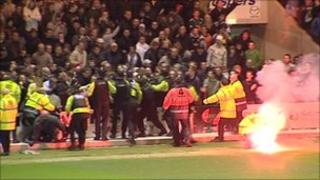 Plymouth Argyle face an estimated £15,000 bill for extra policing at their next game with Exeter City after violence at the last Devon derby.
An extra 140 officers will police the League One game on 11 December, taking the total number to 200.
It follows the arrest of 20 fans at the last game at Home Park on 9 November.
The club, whose bank account is frozen pending a winding-up hearing on 8 December, is also providing extra stewards and better lighting.
The club, which did not pay players and staff in November, is facing a winding up petition from HM Revenue & Customs.
It has until a hearing at the Royal Courts of Justice in London to clear its debts.
Former Plymouth police superintendent Mike Arthur, who has followed the club since the 1950s, told BBC News the cost of the extra officers would be about £15,000.
Police criticised
He said: "If Argyle come off badly in court, I cannot see how they will be in a position to pay anything."
A club spokesman said he did not have a figure for the extra cost of policing the game.
He said: "The club is working to resolve the current financial situation which could cease to be an issue well before the game."
A Devon and Cornwall Police spokesman said football clubs were responsible for paying for policing on their grounds or land they owned or occupied.
He said: "There is ongoing dialogue about the policing of this fixture.
"The cost of that policing is financially in confidence, as part of the ongoing preparations for the match by police and Plymouth Argyle Football Club."
The Devon and Cornwall force was criticised for not anticipating the trouble that happened in and outside Home Park on 9 November.
The Johnstone's Paint Trophy clash, which Exeter won 2-1 with an injury time goal, was the first game between the teams for more than eight years.
Police said at the time that their resources were used "to good effect" and blamed a minority of fans for the trouble that flared.