Port Royal Marina plans for Sidmouth revealed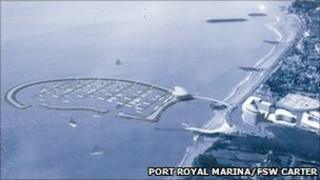 A multi-million pound yacht marina could be developed at a Devon town.
The proposed Port Royal Marina in Sidmouth would provide an "ideal base" for exploring the Jurassic coast and the Channel Islands, a developer said.
FWS Carter, which also owns Exmouth Marina, is in discussions with interested parties, but no plans have been submitted
Businesses have welcomed the proposals, but some residents have said they are concerned about the impact of a marina.
The Reverend Handel Bennett, from the conservation group the Sid Vale Association, said it would change the sea front "not necessarily for the worse, but not necessarily for the better".
"It's important to respect what we've got and value it, so we wouldn't want to see a dramatic change," he said
"You have to weigh these things up. Is it something that contributes to the wellbeing of residents and visitors or is it something that's going to detract?"
'Open mind'
FWS Carter said the marina would be connected to the town by a bridge to allow the tidal movement of shingle below while there would also be a boathouse and cafe.
It said developing a marina would not only help to rejuvenate the town but would provide an additional market for local businesses.
Matthew Carter, from the company, said the marina would be part of a development plan to halt the erosion at Pennington Point.
He estimated it would be at least two years before the marina was open.
One of Sidmouth's hotel owners, Mark Seward, from Hotel Elizabeth, said more information about the marina proposals was needed, but people should keep an open mind.
He said: "I'd welcome discussion and debate and more detail about what is likely to be the finished product, the impact on the environment and the impact on the town.
"We should have an open mind on the project, rather than just dismiss it immediately.
"An opportunity to add to Sidmouth's existing beauty - without spoiling it - and bring in further trade to hotels, guest houses and traders in the town has to be something that we look for.
"It's important we welcome as many people as possible, however much money they've got as long as they want to spend it in Sidmouth."
East Devon District Council said no planning application had been received, but in principle it welcomed any ideas from the private sector that were beneficial to the local economy.