Bideford woman jailed for illegally dumping waste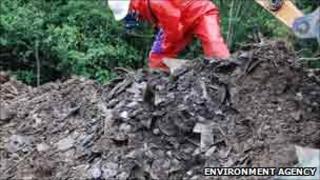 A businesswoman who illegally dumped up to 3,000 tonnes of waste has been jailed for nine months.
Petra Bond, 66, ordered staff to dig asbestos, diesel contaminated waste and other refuse into the ground to cut costs, Exeter Crown Court was told.
Bond and her son 40-year-old Julian Goddard, who ran Auto Disposals and Bideford Skip Hire in north Devon, were convicted of seven charges.
Goddard was ordered to pay a total of £7,750 in fines and costs.
Bond, of Aish Park, Shebbear, ordered staff to dig holes and bury the harmful and noxious waste because it was "too expensive" to dispose of legitimately She then tried to blame them when she was caught.
The offences took place between 2006 and 2008 and continued even after the firm's waste disposal licence had been suspended.
The Environment Agency, which brought the case to court, had been tipped off by former employees of Bond and Goddard's company.
The court was told the defendants had denied the Environment Agency access to the site on a number of occasions during its investigation and had been "unhelpful and obstructive".
A magistrate's warrant was finally issued and a full site investigation, including excavations, were carried out by agency officials in 2008 and 2009.
'Poisoned chalice'
Some of the waste was so hazardous officials had to wear protective suits and full face masks to investigate, the Environment Agency said.
The agency has estimated the cost of cleaning up the waste could be about £120,000 - a cost Bond could be forced to pay.
Sentencing Bond, Judge Stephen Wildblood QC told her: "You positively sought to blame others for your own wrongdoing.
"You knew what you were doing was against the law."
He accepted that some staff "knew precisely" what they were doing while others were compromised by their employer.
Judge Wildblood said Goddard, of Old Barnstaple Road, Bideford, had been handed a "poisoned chalice" and played a lesser role.
Environment Agency investigator Richard Cloke said: "The operators of this site deliberately chose to flout the law and dispose of hazardous waste in a highly illegal and irresponsible fashion.
"They were motivated by money and a desire to increase profits and save on costs.
"In behaving in this reckless manner they ignored the concerns of their employees and put human health and the environment at risk."