Gritters to work to clear Devon roads overnight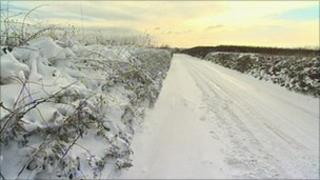 Gritters are to be out overnight across Devon to treat roads, the county council says.
Snow ploughs and gritters and worked throughout Wednesday to clear drifting snow on higher ground in north Devon and on Exmoor.
Main routes were reported as passable with care by Wednesday evening, the council and the Highways Agency said.
However, the council added it was concerned road surfaces would remain below freezing for 24 hours.
Road temperatures were expected to drop as low as -5.8C in the east of the county, it said.
Stuart Hughes, Devon County Council cabinet member for highways and transportation, said icy patches were to be expected.
He said: "The continuing freezing temperatures will mean many roads across Devon could be treacherous.
"Motorists should remain cautious when driving while this cold snap is still with us."
All major roads were kept clear in the county on Wednesday, the Highways Agency said, although motorists reported that the A39 Lynton to Barnstaple road was impassable at Blackmoor Gate and Bratton Fleming for some time.
In the north of the county, winds caused drifts up to 4ft (1.2m) deep in some country lanes.
Forecasters predicted temperatures to dive to -5C on Wednesday night.
Light snow flurries were expected, becoming more persistent overnight to give mainly slight accumulations, the Met Office said.
Higher accumulations were also likely on high ground around Great Mis Tor on Dartmoor and Exmoor, it added.