Devon crash lorry driver recovering in hospital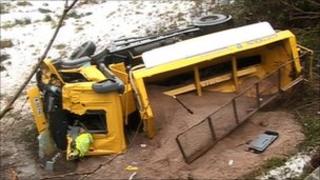 A gritting lorry driver is recovering in hospital after his vehicle skidded on black ice in north Devon.
The lorry careered 30ft (9m) over an embankment on the A39 at Arlington Court on Saturday morning.
He was airlifted to the Royal Devon and Exeter Hospital after a metal spike pierced his leg.
A car also overturned at Red Lion Hill, Brixton, and a lorry spilt its load of honey in Ivybridge on Saturday.
Bernard Levens, of South West Highways, said: "The gritter lost control on black ice and went straight over the embankment."
The road was re-opened later.
The driver's condition in hospital was described as "comfortable".