Plymouth University gets legal advice over fees protest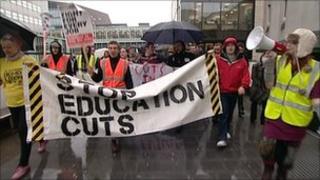 A Devon university is "exploring" a number of options, including getting legal advice, to try to end a two-week student sit-in.
Protesters have been occupying a teaching room at the University of Plymouth since 23 November.
They are campaigning against the government's planned rise in tuition fees and cuts to courses.
A university spokesman said the room was a "valuable teaching space" needed for "full-time" teaching.
Negotiations last week between the vice-chancellor's representatives and the protesters failed to end the dispute.
"The small minority of protesters have refused to vacate the room and so the university is exploring alternative methods to resolve the situation," the spokesman said.
He confirmed the university authorities had sought legal advice.
Under government proposals, tuition fees at English universities could increase to £9,000, and government funding for university teaching budgets will be withdrawn from many subjects due to spending cuts.
A Commons vote on the proposals is due to be held on Thursday.
The Plymouth students' list of demands to the university's vice-chancellor include staff on salaries of at least £100,000 undergoing a pay cut and a rise in fees being reflected with a rise in bursaries and hardship funds.
Merri Fisk, one of the campaigners, said it was a "flexible protest" with students coming and going.
But the 21-year-old environmental sciences student said the room had been occupied 24-hours-a day since the protest had begun and she herself had had just one night off.
"It's something I feel strongly about, this is an incredibly unfair increase in fees," she told BBC News.