Plymouth City Council 'needs to cut 500 jobs'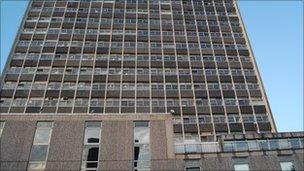 Plymouth City Council needs to reduce its workforce by about 500 posts over the next three years, it has said.
The council said it needed to save £30m over three years to deal with funding reductions facing all councils.
The council, which has a total workforce of 14,000 people, will hold negotiations with unions in January.
It said the cuts might not necessarily be achieved through compulsory redundancies. Charities and unions have said any cuts would hit services.
Of its 14,000-strong workforce, the council directly employs 4,800 people.
It said that costs would be reduced through natural turnover, planned retirements, controls on recruitment, reducing workforce overheads and negotiated workforce reductions wherever possible.
It added that it aimed to protect frontline services.
Darren Turner, from the union Unison, said any cuts caused concerns about how services would be affected.
He said: "What guarantees do you give to the people of Plymouth that they're not going to lose essential services? I think that's the question they really want an answer to."
Related Internet Links
The BBC is not responsible for the content of external sites.