Brixham patient 'caught fire' in her bed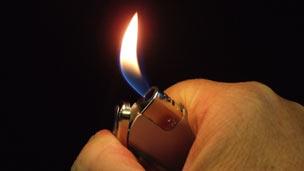 A patient with pneumonia set fire to her bed when a cigarette lighter reacted with an oxygen supply in hospital, an inquest has heard.
Shocked staff found Janet Barden on fire in her bed at the Royal Devon and Exeter Hospital in November last year.
The 49-year-old from Brixham had already had two lighters confiscated by nursing staff.
She died three days later in a specialist burns unit. A verdict of death by natural causes was recorded.
Mrs Barden had been found drunk and incapable in a street in Exeter and was arrested for her own welfare.
When her condition deteriorated she was admitted to hospital, but in the middle of the night she may have tried to light a cigarette, the inquest was told.
The flame from the lighter near the oxygen in her mask had an "explosive" effect, it heard.
Mrs Barden suffered head, neck and chest burns and her oxygen mask melted on her body.
She had been put into a side room but her condition was being regularly monitored by doctors and nurses.
Senior matron Sarah Dodds said two lighters had been removed from Mrs Barden for safety reasons and put into her personal possessions bag outside the side room.
Mrs Dodds was unable to say whether Mrs Barden did have a cigarette or whether she had fetched her lighters from outside the room.
She told the inquest: "I have never had this incident occur in my nursing career.
"It was very shocking and disturbing for the nurses involved."
Mrs Barden was said to be "drowsy, rousable but refused to answer questions" when she was being treated.
The inquest heard from the hospital trust's fire advisor who said it was not a requirement for there to be fire fighting equipment or fire blankets in side rooms.
Greater Devon Coroner Dr Elizabeth Earland said she would write to the hospital's chief executive about reviewing its fire policy.
Recording a verdict of natural causes, the coroner said although Mrs Barden suffered extensive burns, she did not die from those burns, but from pneumonia.
Related Internet Links
The BBC is not responsible for the content of external sites.