Floor faults disrupt Honiton and Torquay kidney units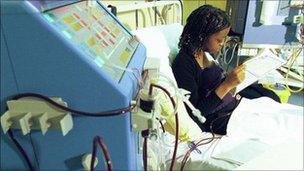 Two new multi-million pound kidney dialysis units in Devon have been disrupted for floors to be re-laid, one within months of opening.
A £2.2m Torquay unit, which opened in July, has just reopened after three weeks of partial closure to relay a floor which had bubbled up.
A £1.4m Honiton unit is closed until February while its floor is replaced.
More than 60 patients from both units have had to travel to the Royal Devon and Exeter Hospital for treatment.
Royal Devon and Exeter NHS Foundation Trust, which is paying the extra travel costs of staff, said the disruption was "unfortunate".
The partial closure of the Torbay unit meant that about 30 patients had their care transferred to the Royal Devon and Exeter Hospital.
Thirty-four patients at the Honiton unit, which opened in 2008, are having to make the extra journey of about half an hour to the hospital.
Micah Langton, renal service clinical manager, said: "The flooring in both units was not up to standard and we can't provide a quality service to patients.
"We have tried to minimise disruption to services by keeping patients' renal schedules."
He said the trust was "very dissatisfied" about the problem.
The contractor had accepted responsibility for the flooring and was relaying the floors at its own cost.
He said recouping the extra cost of travel was "something to be decided" by the trust.
Dialysis provides an artificial replacement for the function of kidneys which clean the blood by removing excess fluid, salt and wastes.
Related Internet Links
The BBC is not responsible for the content of external sites.